Is Saigon worth visiting? –  One of the most interesting cities in Vietnam to visit is formerly called Saigon and now goes by the name Ho Chi Minh City. You won't run out of things to do in Ho Chi Minh City, as the city offers a wide variety of attractions, from mouthwatering cuisine and stunning French architecture to a burgeoning craft beer scene.
The 13 Best Things To Do in Ho Chi Minh City
1. Make your way over to the Reunification Palace.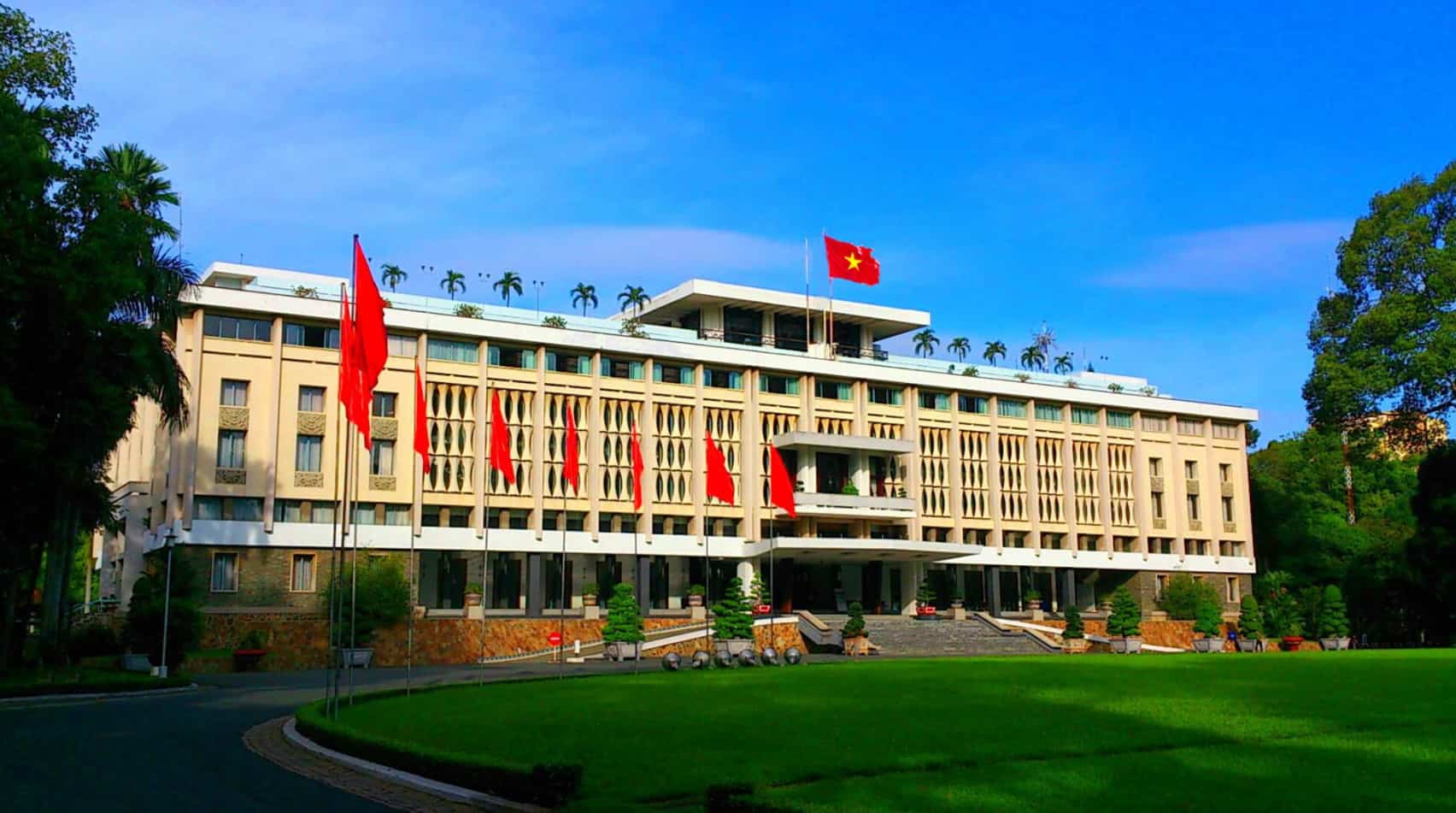 The palace that is now known as the Independence Palace or Reunification Palace was formerly known as the Norodom Palace. Until his death in 1963, Vietnamese General Ngo Dinh Diem called this location his home base. Diem was extremely unpopular during his time in office, and in 1962, members of his air force attempted to eliminate him by bombing the palace. As a result, he decided to construct a new home on the land, but this time he made sure to include a bomb shelter in the basement in case the incident occurred again. His worst fears were realized when he was shot dead by members of his army.
During the conflict in Vietnam, the President of South Vietnam made his home in the newly built Reunification Palace (or American War as it is called here). This building is a fantastic example of architecture from the 1960s. It features classic furniture and decor from the 1960s and is open-air. The ground floor is primarily comprised of meeting rooms, while the second floor features an impressive bar. The basement houses a bomb shelter in addition to a communication hub.
When a tanker belonging to the North Vietnamese army crashed through the front gate of this compound in 1975, it was the event that signaled the end of the Vietnam War. Every tourist in Ho Chi Minh City should make it a point to stop by the Reunification Palace at some point during their stay. It is also depicted on the note that is worth 200,000 VND.
2. Go to the War Remnants Museum
Visiting the War Remnants Museum is a profoundly moving experience that will alter the way you think about the millions of people who lost their lives in the Vietnam War. The majority of us who are citizens of the United States have been shielded from the atrocities that our nation inflicted on Vietnam. And if you're anything like me, when you leave this museum, you'll feel a mixture of astonishment and emotion.
A collection of vehicles and weapons that saw action during the war is on display in the area that is located outside. Additionally, the first floor contains a collection of anti-war posters and artifacts. As you progress up the stairs, the museum not only becomes more difficult to navigate, but also becomes more interesting.
Photos of the aftermath of the use of the chemical agent orange, which was dropped all over Vietnam, are heartbreaking and overwhelming in equal measure. Several generations have been affected by the disabilities that developed as a direct result of chemical exposure. The "Requiem" exhibition, which features photographs of journalists who were killed during the conflict, is also extremely upsetting.
A trip to the War Remnants Museum will undoubtedly be an enlightening and emotionally draining experience for the visitor. Even though it won't be a particularly enjoyable way to spend the afternoon, visiting the museum is still one of the most recommended activities in Ho Chi Minh City.
3. Have your letter mailed to the HCM post office.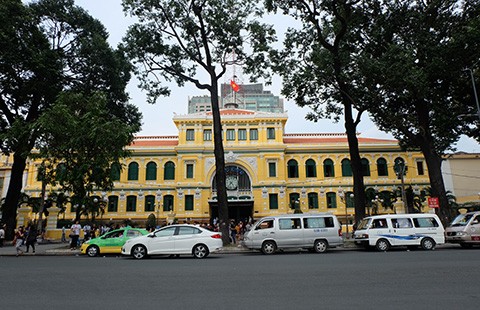 Sending a letter from the central post office in Ho Chi Minh City is another one of the best things to do in the city.
The Gothic style was used in the construction of the Ho Chi Minh City Post Office, which was carried out in the late 1800s. It is without a doubt the most remarkable example of French architecture that can be found in the city.
Even though the exterior of the building is impressive, the inside is where all the action happens. Be sure to take a look inside and admire the magnificent marble floors, the grand arches, and the row of vintage wooden telephone booths that are located on the left side.
Despite popular belief, the Central Post Office in Ho Chi Minh City is very much operational, and on most days you can expect to find it humming with activity. One of the things that tourists who come to Vietnam enjoy doing is going to one of the souvenir stands and purchasing a few postcards to send back to their loved ones and friends at home.
4. Go shopping at BenThanh Market and other places.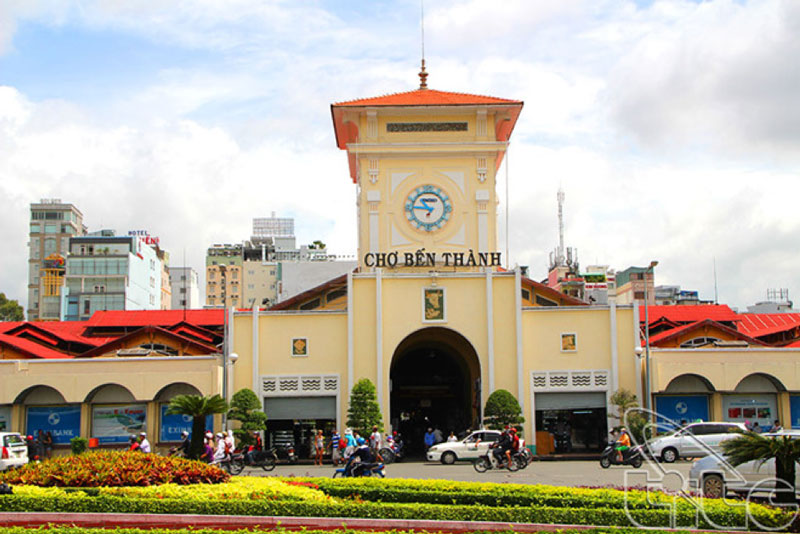 The Binh Than Market in Ho Chi Minh City is by far the most well-known shopping destination for visitors to the city. Take note that we did not say that it is the best place, but that it is the place with the most visitors. We find it to be overpriced, crowded, and full of generic trinkets. We are not impressed. Be prepared to have your patience tested by the overly enthusiastic women working each booth. And remember to haggle over the price of anything you want to purchase from the stalls at the Binh Than Market. You need to pay between fifty and seventy-five percent of the price they were initially offering.
You should go to the Binh Tay Market in District 5 if you want to have a more genuine experience shopping at a market. Additionally, the following markets appeal to us:
Central Market (Address: 4 Phạm Ngũ Lão)
Saigon Square 1 (Address: 81 Nam Kỳ Khởi Nghĩa)
Russian Market (Address: 328 Võ Văn Kiệt)
If you are more interested in shopping in the same places that the locals do, there are several large malls located throughout the city. Vincom Center Mall and Saigon Centre Mall are both conveniently located in District 1.
If you are looking for something that is a little bit more one-of-a-kind, we strongly suggest that you check out The New Playground, which is located at 26 Lt. Trng and carries all of the most up-to-date styles from trendy Vietnamese clothing brands. It is near Vincom Center Mall, which can be found directly across the street. We also really like the Hello Weekend Market, which moves around every few weeks – check out their Facebook page for more information on where it is currently located.
If you plan on doing a significant amount of shopping while you are in Ho Chi Minh City, you might want to take a look at the shopping guide that we have written specifically for the city.
5. Participate in the Coffee-drinking Traditions of Saigon
Coffee is a staple in Vietnamese culture, and its consumption is taken very seriously. You'll also come across quaint coffee shops on virtually every street corner in the city.
Go to District 1's Workshop if you need a place to get some work done. They offer brews that would satisfy even the most discerning coffee connoisseur, as well as dependable Wi-Fi and ample seating for all customers. Padma de Fleur is a flower shop that has been converted into a coffee shop; when you order a drink there, it will be presented to you alongside a miniature flower arrangement. This makes it an excellent choice for those looking to create an Instagram-worthy coffee shot. And L'Usine is a classy coffee shop that serves some mouthwatering variations on traditional American breakfast foods.
If you simply need a quick fix of coffee while you're on the go, there are also several reputable coffee shop chains located throughout the city. Phuc Long Coffee is our top pick for traditional Vietnamese coffee, and Cong Caphe serves some of the most delicious coconut coffee in the entire country.
Additionally, while it's possible that egg coffee was first created in Hanoi, there are still plenty of cafes in Saigon that offer some of the best egg coffee in the country. Try the incredibly adorable Goc Ha Ni coffee shop, which is tucked away down a little alleyway off Bui Vien Street, or the trendy Okkio Cafe, which is located near Ben Thanh market.
6. Observe the Cityscape from atop the Bitexco Tower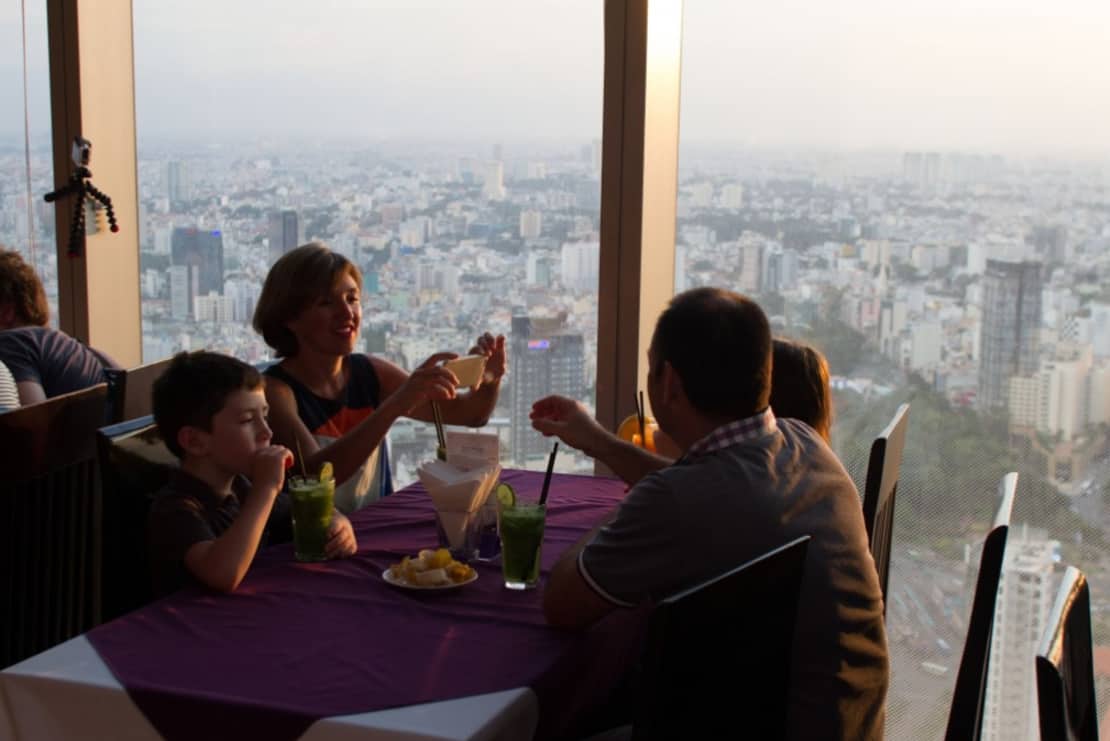 The Bitexco Financial Tower is the tallest tower in Saigon that has been constructed to this day. It stands at a height of 860 feet. When the clouds are not present, visitors will be treated to views of the city that can only be described as breathtaking. The Saigon Skydeck is an observation deck that is located on the 49th floor of the building. The observation deck has a price of 200,000 VND for adults, 130,000 VND for children ages 4 to 12, 150,000 VND for seniors, and 50,000 VND for people with disabilities. When combined with the World of Heineken, an additional 50,000 Vietnamese Dong is required (including two drinks).
Consider paying a visit to the EON Heli Bar located on the 52nd floor if you think that price is excessive for the view alone. It does not provide views in every direction like the sky deck does, but it does not cost anything to enter. The prices of cocktails are high compared to those in Vietnam, but considering the breathtaking scenery, it is a small price to pay.
7. Sample Saigon's Craft Beer
An incredible up-and-coming craft beer scene can be found in Ho Chi Minh City. Brewers from various beer capitals around the world are relocating here to experiment with novel and interesting flavor combinations. The majority of tasting rooms are not only hip and lively, but they also offer delectable snacks to pair with the beers they serve.
Because we had such a good time drinking craft beer in Saigon, we decided to devote an entire post to the city's many excellent microbreweries.
8. Consume Seafood on the Street Named Vinh Khanh
Have you been having dreams where you are sitting on a tiny plastic stool on a busy street in Saigon and slurping snails out of their shells while doing so? You are in luck because Vinh Khanh Street is lined with restaurants that serve a wide variety of seafood dishes that are both fresh and delicious.
9. Take a walk down the Pedestrian Mall.
From directly in front of the People's Committee and down to the river, Nguyen Hue Street is a broad area that is reserved exclusively for pedestrian traffic. Because it is off-limits to both vendors and motorbikes, it is one of the few places in the city where it is safe to walk without the risk of being hit by a vehicle or being harassed by other people.
There is a large statue of Ho Chi Minh that is very photogenic, and there is also a fountain that puts on a show in the evenings. The street is not only a beautiful place to take a stroll, but it is also lined with charming coffee shops, delectable restaurants, and shops. Be sure to make a pit stop at Apartment 42, also known as the "Cafe Apartments," an old apartment building that has been transformed into a collection of hip stores and restaurants. You can't miss it if you're facing the People's Committee; it's on the right side of the room and very visible.
10. A celebration on the street of Bui Vien
The street known as Bui Vien is considered to be the backpacker's mecca of Saigon. It's kind of like Khao San Road, but not quite as crazy as that place. It is easy to see why backpackers are drawn to this area because it is replete with a variety of establishments that cater to their needs, including bars that play dance music, small beer shops with plastic tables that spill out into the street, restaurants, coffee shops, and boutiques.
Although it is advertised as a "walking street," Bui Vien is not, in any way, suitable for pedestrian traffic. You will have no choice but to walk in the street the majority of the time because the sidewalks are crammed with parked motorcycles and tables from nearby restaurants. In addition, there are a lot of cars and motorcycles that drive on Bui Vien, which means that they will be zooming past you as you make your way down the congested street.
You should begin your evening at a bar that has outdoor seating so that you can observe the mayhem that is occurring all around you. And when the night is over, you are free to go to whichever bar seems to have the most activity. There is not a shred of doubt in my mind that you will continue the partying until the early hours of the morning here.
11. Make sure to stop by the Ho Chi Minh City Museum.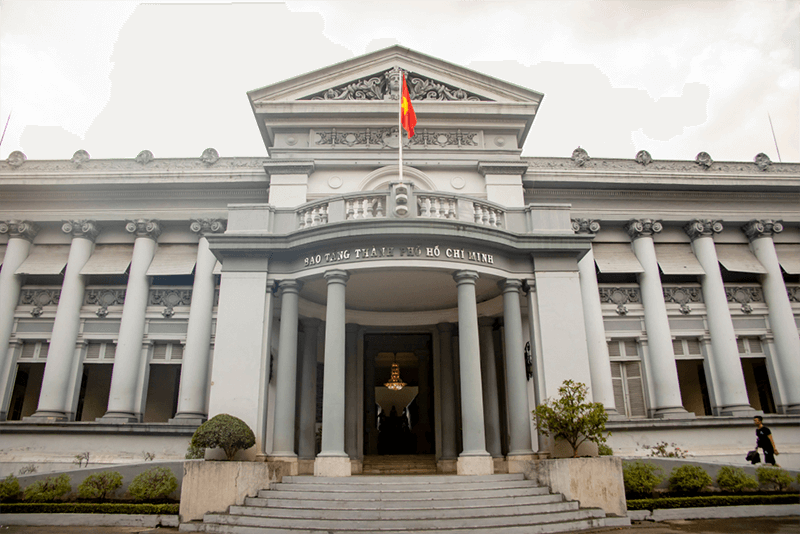 This museum is the ideal place to spend the afternoon if you are interested in gaining a deeper understanding of the history, culture, and customs that are associated with Ho Chi Minh City. Not only is the structure itself quite lovely, but it also houses several fascinating exhibitions that include archaeological artifacts, currencies, and old ceramic relics. Additionally, there is a substantial amount of coverage devoted to Vietnam's struggle for independence throughout the museum.
Outside, you'll find several different war machines, one of which is the jet that a South Vietnamese soldier flew to bomb the Reunification Palace.
12. Have a Meal in Chinatown Consisting Primarily of Dumplings
If you are sick and tired of Vietnamese food, Chinatown, which is located in District 5, is a great option for dining if you are looking to branch out from Vietnamese cuisine. The dumplings served here are on par with those served at the best dim sum restaurants in Hong Kong, but you can get them here for a fraction of the price!
We loved Sủi Cảo Đại Nương (address: 125 Duong Chau Van Liem, Phuong 14, Quan 5) but ordering was a bit confusing. You have the option of getting your dumplings fried, steamed, or in the soup when you place your order (or order all three as we did).
13. Navigate Your Way Through the Cu Chi Tunnels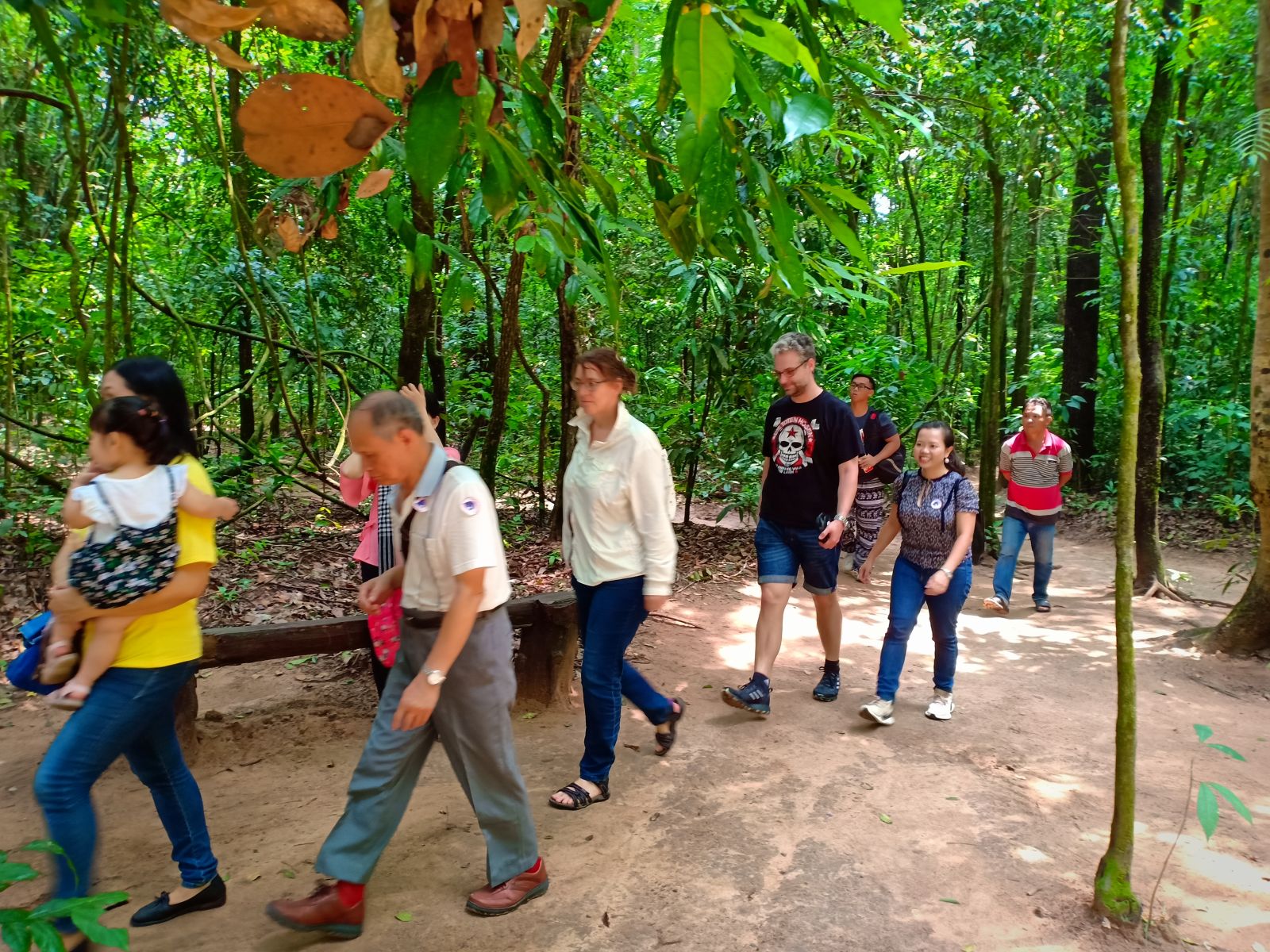 During the Vietnam War, the Vietnamese military made use of the Cu Chi Tunnels, which are a network of tunnels spanning a distance of approximately 120 kilometers (75 miles) (or the American War as they call it). They served not only as hiding places but also as pathways for communication and the transportation of supplies.
Even though the conditions were terrible for living, a great number of soldiers were forced to spend extended periods hiding out in these tunnels. There was a lack of oxygen and water, but in addition to that, they had to contend with the monsters that were residing in the cave. During their time spent living in the tunnels, a significant number of soldiers fell ill, and malaria was a particularly common illness.
For visitors to get a feel for what life was like for the soldiers who worked in the tunnels during the war, tourists are now allowed to crawl around in the sections of the tunnels that are considered to be safer. This tour is not recommended for those who struggle with their breathing or get anxious when they are in confined spaces.