what-is-the-most-delicious-dish-in-vietnam?
Pho may be the most delicious dish in Vietnam, but when it comes to lunch in the nation's capital, bun cha is by far the most popular option. After eleven in the morning, restaurants on the sidewalk will begin to grill small patties of seasoned pork and slices of marinated pork belly over charcoal fires, so all you have to do is look out for the clouds of smoke that smell like meat.
Here is a list of delicious dishes to try in Vietnam
The level of complexity in Vietnamese cuisine is not particularly impressive. It is possible to prepare a significant number of the most well-known dishes just as competently on the side of the road as one would in an upscale establishment.
However, it is precisely this simplicity, along with the slight variations brought about by geographic location and the use of fresh ingredients, that compels us to pull up a plastic stool for more.
Here is a list of forty dishes that you simply must try if you visit Vietnam:
Pho – Phở
If you were to compile a list of Vietnamese dishes, how could you leave out pho?
It is almost impossible to walk more than a few blocks in any of Vietnam's major destinations without coming across a group of ravenous customers chowing down on noodles at a makeshift pho stand. It is not surprising that this straightforward dish, which consists of a salted broth, fresh rice noodles, a sprinkling of herbs, and either chicken or beef, is the dominant component of the diet of the locals. It is not only inexpensive but also tasty, and it is widely available at any and all hours.
Hanoians place a high level of importance on the dish known as cha ca, which is why the nation's capital has an entire street named after the fried fish morsels. Cha ca La Vong is located in the alley that bears its name, and it is known for its tableside preparation of fish chunks seasoned with garlic, ginger, turmeric, and dill and served on a hot pan.
Although Cha Ca La Vong might be the most popular restaurant in town, you shouldn't go there because the staff is unfriendly and the food is overpriced. Instead, make your way to the Duong Than neighborhood of Hanoi's Hoan Kiem district, where you'll find a multitude of options that are not only more reasonably priced but also equally as tasty.
Banh xeo – Bánh Xèo
A good banh xeo is a crispy crepe that is stuffed to the brim with pork, shrimp, and bean sprouts, and it is garnished with fresh herbs, as is typical of most authentic Vietnamese dishes. Cut it into manageable slices, roll it up in rice paper or lettuce leaves, and dunk it in whatever special sauce the chef has mixed up for you to eat it like a local. This will give you the experience of eating it as a native would.
Cao Lau – Cao Lầu – A delicious dish in Vietnam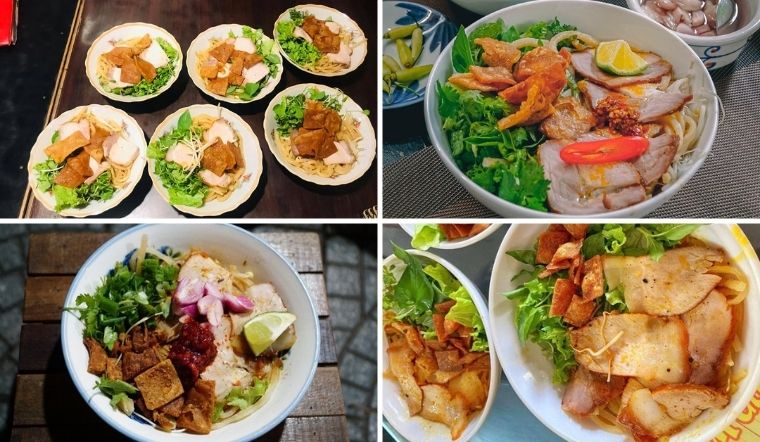 This pork noodle dish, which is native to Hoi An, is somewhat representative of the many different cultures that frequented the trading port during its heyday. The thicker noodles are similar to udon, which is a type of noodle popular in Japan. The pork and crispy won-ton crackers add a touch of China, while the broth and herbs are unmistakably Vietnamese. Only water drawn from the local well in Ba Le may be used in the preparation of authentic cau lau.
Cha gio and Nem Ran – Chả giò – Nem rán
Even though Vietnam's bite-sized crunchy spring rolls may not be as popular as the fresher version of the dish, they are still deserving of a special mention. Before moving on to the main course, whet your appetite with an appetizer consisting of a crispy shell stuffed with a tender veggie and meat filling and dipped in a tangy sauce. The people living in the north call these areas nem ran, while those living in the south refer to them as cha gio.
Goi cuon – Gỏi cuốn
After indulging in an excessive amount of the fried food that Vietnam has to offer, these fresh spring rolls, which are both light and healthy, are an excellent choice. Before being neatly rolled and doused in fish sauce, the translucent parcels are first stuffed with salad greens, a sliver of meat or seafood, and a layer of coriander. Then, the parcels are dipped in fish sauce, which is Vietnam's preferred condiment.
Bun bo Hue – Bún bò Huế- Another delicious dish in Vietnam
The version of noodles served in Central Vietnam features a meaty broth and heaping portions of beef and pork to appeal to carnivores. The thick, slippery rice noodles make for a meal that is also heartier than the noodles that are typically found in the north and the south.
Banh khot
This delicate take on a traditional Vietnamese pancake retains all of the flavorful components of its larger counterpart but is much more manageable to eat. Each banh knot can be devoured in a single daring but ultimately satisfying bite. The crisp exterior is achieved by using coconut milk, and the filling typically includes shrimp, mung beans, and spring onions. Dried shrimp flakes are sprinkled on top before serving.
Ga tan
Do you have a stuffy nose? Choose the broth known as ga tan, which is Vietnam's version of the well-known chicken noodle soup. Ga tan is served with rice noodles. If you are in need of a Vietnamese tonic, you should give this one a shot despite the fact that it does not taste or look quite like the version that your mother used to make, which had a bluish-green hue due to the herbs and large chunks of chicken parts.
Nom hoa chuoi – Nộm hoa chuối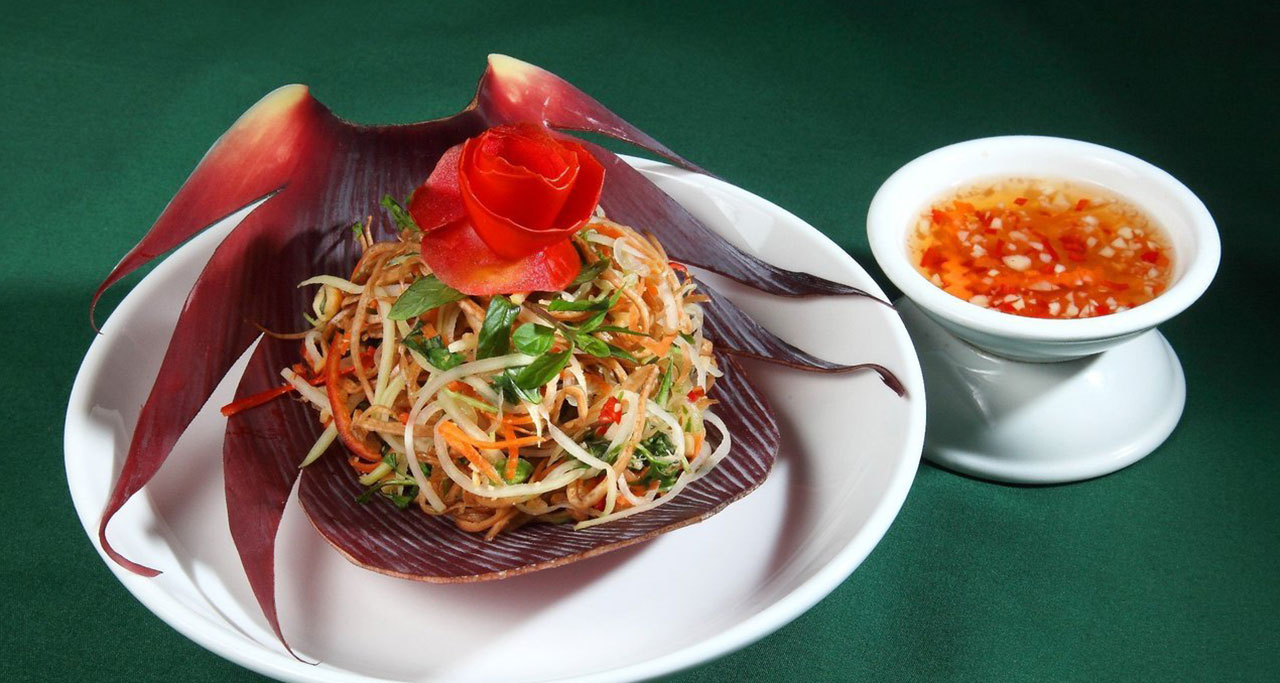 A regular serving of mixed greens can't compare to the power packed into a salad made with banana flowers like those served in Vietnam. The banana flowers, which are the thick, purple lumps that will later turn into bunches of bananas, are peeled and thinly sliced before being combined with green papaya, carrots, and cilantro in addition to chicken and a generous pouring of a salty fish sauce dressing topped with crunchy peanuts.
Bun bo Nam bo
This bowl of noodles does not contain any broth, which prevents the various components from becoming soaked and preserves their distinct textures. Tender slices of beef are combined with crunchy peanuts and bean sprouts in this dish, which is also seasoned with fresh herbs, crisp dried shallots, a splash of fish sauce, and fiery chili peppers.
Hoa qua dam
When the sweltering heat of the Vietnamese summer starts to get to you, the best way to cool off is with a cup of this chunky blend of fresh tropical fruits in a cup. If you stick to the shaved ice variety, it could be considered a healthier alternative to ice cream; however, for the full experience, it is best enjoyed with diabetes-inducing condensed milk mixed in. Shaved ice is a popular dessert in Hawaii.
Ca phe trung – Cà phê trứng – delicious dish in Vietnam you should try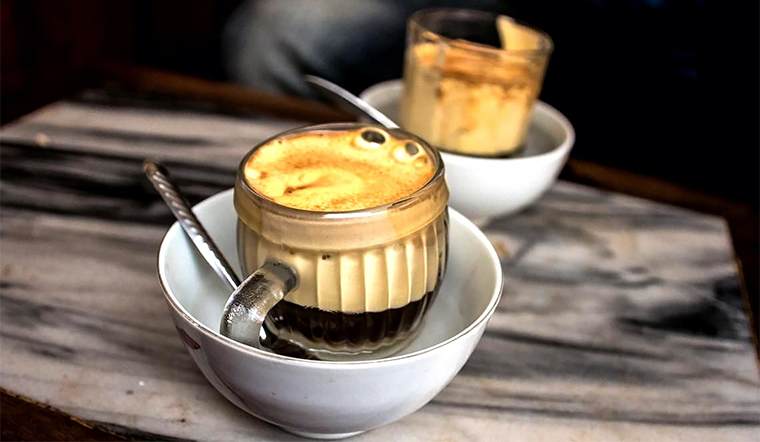 Although "egg coffee" is technically a drink, we like to think of it more as a dessert because of its unique flavor profile. Even people who don't normally have a craving for coffee will find themselves licking their spoons in delight as they take a sip of the Vietnamese coffee topped with a foam made of egg whites that is soft, creamy, and reminiscent of meringue.
Bo la lot – Bò lá lốt -Top delicious dish in Vietnam
The Vietnamese are true experts when it comes to wrapping their food. The ground beef used in bo la lot is not served raw or deep-fried; rather, it is flame-cooked on an open grill to mellow the exterior and infuse the betel leaf's peppery aroma into the ground beef on the inside.
Bun dau mam tom
This seemingly unremarkable dish of tofu and noodles is dressed up with mam tom sauce, which is essentially the Vegemite of Vietnam. The slabs of deep-fried tofu serve as the main component of this dish, and the pungent purple dipping sauce is utilized to impart flavor to the tofu.
Top delicious dish in Vietnam:Com suon nuong – Cơm sường nướng
This straightforward dish is the Saigonese version of bun cha, but instead of using noodles, it makes use of rice. A succulent pork cutlet is grilled over hot coals to infuse it with a deep, smoky flavor, and then it is placed on top of fluffy white "com" or broken rice to finish off the dish.
Bun cha
Pho may be the most well-known dish in Vietnam, but when it comes to lunch in the nation's capital, bun cha is by far the most popular option. After eleven in the morning, restaurants on the sidewalk will begin to grill small patties of seasoned pork and slices of marinated pork belly over charcoal fires, so all you have to do is look out for the clouds of smoke that smell like meat. When they have reached the desired level of charring and crispiness, the morsels are ready to be served alongside a sizable bowl of broth that is heavy on fish sauce, a basket of fresh herbs, and a portion of rice noodles.
Banh mi – Bánh mì – Top delicious dish in Vietnam
Although the baguette was probably brought to Vietnam by the French, the Vietnamese have taken it to a whole new level. How exactly it is done differs depending on what part of the country one is in.
In the north, chefs stick to the basic elements of carbohydrates, fat, and protein — bread, margarine, and pasta. However, if you travel to the south, your banh mi may contain a more colorful combination of cheese, cold cuts, pickled vegetables, sausage, fried egg, fresh cilantro, and chili sauce.
And a lot o dishes you can try in Viet Nam on your trips.